---
Projet Wakilare (ENGLISH VERSION BELOW)
Wakilaré est un projet social qui a été lancé en février 2016 pour aider les personnes handicapées de Conakry à sortir de la mendicité et pour créer un modèle positif et durable pour ces personnes, ceux-ci par leurs insertions socioprofessionnelles. Elle vise à «Sortir de la mendicité. Devenir entrepreneur » à travers les axes principaux d'interventions: • la formation à la cordonnerie, à la couture et à l'alphabétisation • l'entrepreneuriat et la commercialisation des produits fabriqués par ces handicapées • la prise en charge des personnes handicapées (l'hébergement, la santé).
Contexte et problèmes à résoudre
Selon le gouvernement, 2% de population guinéenne est handicapée: cela correspondrait à ~ 240,000 personnes. Les défaillances de la politique nationale à l'égard des personnes défavorisées ont pour conséquence quatre types d'exclusion : professionnelle, économique, financière et sociale. Ces personnes sont dépourvues de toute qualification et sont donc presque toutes inactives et la seule activité génératrice de revenu est la mendicité. Ils n'ont pas d'appui social ni familial. Cependant beaucoup croient qu'en Guinée les personnes handicapées ne peuvent ou ne veulent pas travailler. Ce que Wakilaré entend démentir. Comme les autres, les personnes handicapées veulent travailler;
Elles peuvent le faire et le feront pour autant qu'on leur en donne la possibilité. Elles veulent et ont besoin de travailler pour: gagner leur vie, être autonomes et supporter leurs familles, être acceptés par la société et avoir l'estime de soi. Le travail est essentiel au bien-être des personnes handicapées, comme il l'est au bien-être de tout humain. Or, pour le cas spécifique de la Guinée, ces personnes doivent surmonter des obstacles significatifs pour trouver un emploi : étant donnée que 86% des handicapés sont analphabètes, ils n'arrivent qu'à vivre de la mendicité. Bien que certaines activités soient impossibles à réaliser par des personnes handicapées, la volonté, l'innovation sociale et la créativité peuvent permettre de surmonter des obstacles pour accéder à un véritable emploi. Ce qui a motivé Wakilaré à investir pour l'auto-prise en charge des personnes handicapées.
Solution apportée
L'idée de Wakilaré est d'aider les personnes en situation d'handicap qui vivent dans les rues de Conakry à sortir de la mendicité à travers l'alphabétisation, la formation professionnelle et leur recrutement en tant qu'artisans. Afin qu'ils puissent avoir le métier qui leur donne l'autonomie financière et de cette façon se réinsérer dans la « société active ». Il s'agit d'une formation pratique offerte par des maîtres expérimentés qui leur enseignent le métier de la cordonnerie, avec une forte orientation vers le marché local surtout, mais aussi international. Le but est d'orienter les ouvriers vers une production vendable, leur montrer comment suivre des préférences et goûts du mode des clients. Un atelier de production a été ouvert en février 2016 à la Bluezone de Kaloum. Ensuite une Boutique a été inaugurée en mars 2017 dans le quartier de Sandervalia (dans la commune de Kaloum/ Conakry) pour la vente directe des produits.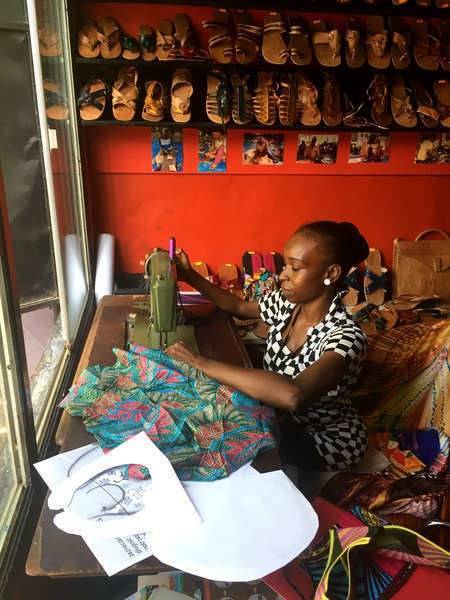 Pourquoi nous faisons un crowdfunding
Le projet de Wakilaré se fonde sur deux armes co-existantes: celle commerciale qui veut vaincre la concurrence grâce à la créativité de design et la qualité de ses produits, et celle sociale qui veut en même temps aider les personnes handicapés à se rendre autonomes. Comme cette deuxième arme devrait être soutenue par le coté commercial de Wakilaré, il faut que Wakilaré atteigne rapidement ses objectifs de rentabilité pour être réellement « sociale ». Cependant Wakilaré est encore une « start-up » et a besoin d'appui extérieur pour réaliser ses investissements nécessaires afin de réaliser les économies d'échelle, la diversification de sa production et la visibilité publique qui permettront finalement à Wakilaré d'être rentable sur le marché local mais aussi international. Cela serait la garantie la plus importante pour la durabilité et la réussite du projet. Voici la raison pour laquelle est important de supporter ce projet à travers le crowdfunding.
Effectivement, la campagne de crowdfunding est idéal pour Wakilaré: - pour la cause sociale qui rime avec ses objectifs et - pour booster l'autonomie financière de l'entreprise sociale.
Ce fonds collecté pourrait permettre d'appuyer au financement:
des frais de loyer de la boutique pour un an, nécessaire pour augmenter la base de donnée des clients, en suite stimuler les revenus, accroitre la rentabilité et assurer pérennité du projet

des fournitures de travail, nécessaires pour augmenter la qualité des produits Wakilaré et mettre en œuvre une politique de « branding » qui puisse distinguer Wakilaré de la concurrence, ainsi pour faciliter la gestion administrative et financière de l'entreprise, notamment: une machine à tampon**, avec laquelle Wakilaré pourra imprimer son logo sur tous les produits, en rendant son « brand » reconnaissable par la clientèle, ce qui est nécessaire pour le développement des ventes dans le long terme. En outre cette machine va permette aussi de lancer la production des aimants à frigo en cuir, afin de diversifier les produits, satisfaire la demande de clients (en comblant le manque sur le marché) et augmenter la vente.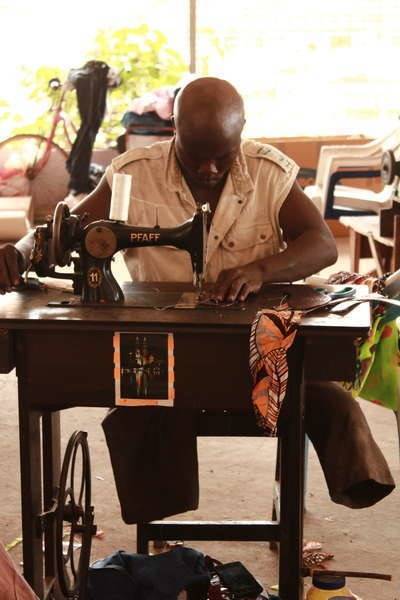 Association Wakilaré
Wakilaré fonctionne comme une association a but non lucratif avec un business social de cordonnerie et couture. Le président de l'Association est un des handicapés, qui également fait partie de l'équipe de l'entreprise. Il joue un rôle de porte parole pour les personnes handicapées, surtout les membres de l'association en les représentant auprès des autorités et auprès des autres associations et partenaires dans l'amélioration de leur situation sociale, économique etc. ainsi qu'en leur donnant le courage et la motivation pour se former, travailler et vivre dans la dignité.
L'association Wakilaré regroupe 14 membres dont 7 personnes handicapées qui tous ont été formées et embauchées par l'entreprise de Wakilaré (6 cordonniers et 1 couturière/vendeuse). Les autres membres font partie de l'équipe de gestion de Wakilaré en fonction des finances, ressources humaines, administration, formations, orientations stratégiques, ainsi que l'appui médical et social. Les actions réalisées ont été effectives grâce à un travail d'équipe dans l'esprit d'une bonne collaboration.
Le projet est appuyé par plusieurs sources de financement, notamment : -de revenues de vente de ses produits, -de fonds fournies par les promoteurs de projet, - de donations de bienfaiteurs et de prix de concours gagné.
Wakilare Project
Wakilaré is a social project that was launched in February 2016 to help people with disabilities in Conakry get out of begging and to create a positive and sustainable model in order to facilitate their socio-professional insertion. Wakilaré aims at "Quit begging. Becoming an entrepreneur" through these main areas of intervention: • training in shoemaking, bagmaking, sewing and literacy • entrepreneurship and the marketing of products • care for disabled people: accommodation, health etc.
Context and problems to solve
According to the Guinea government, 2% of Guineans population is disabled: this would correspond to ~ 240,000 people. The failings of the national policy towards these disadvantaged group of people result in four types of exclusion: professional, economic, financial and social. They ended up almost all unemployed and one of the few income-generating activity is begging. They have no social or family support and there is a widespread prejudicehere that people with disabilities cannot or do not want to work. This is what Wakilaré intends to deny. Like anyone else, people with disabilities want to work and can succeed!
They can and will do it as long as they are given the opportunity. They want and need to work to earn a living, be independent and support their families, be accepted by society and have self-esteem.Work is essential to the well-being of people with disabilities, as it is to the well-being of all human beings. However, in the specific case of Guinea, these people have to overcome significant obstacles to finding a job: given that 86% of the disabled are illiterate, they only manage to live by begging. Although some activities are very difficult for people with disabilities, willingness, social innovation and creativity can overcome barriers to employment. This motivated Wakilaré to invest in self-care for people with disabilities.
Solutions provided
The idea of Wakilaré is to help people with disabilities who live on the streets of Conakry to get out of begging through literacy, vocational training and their recruitment as craftsmen. So that they can work, become financially autonomous and in this waythey will reintegrate into the "active society". It is a practical training offered by experienced professionals who teach them the craft of shoemaking, bagmaking and sewing with a strong orientation towards the local market especially, but also international. The aim is to orient the workers towards a sellable production, to show them how to follow preferences and tastes of the customers. A production workshop was opened in February 2016 at the Kaloum Blueline in Conakry. Then a Shop was inaugurated in March 2017 in the district of Sandervalia (in the municipality of Kaloum / Conakry) for the direct sale of products.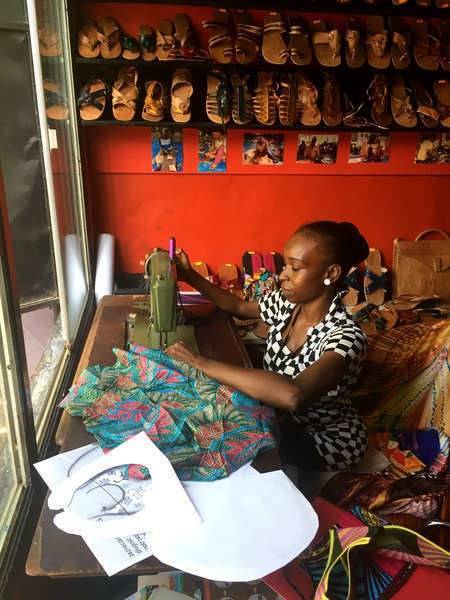 Why we are crowdfunding
The Wakilaré project is based on two co-existing branches: the commercial one that wants to win the competition thanks to the creativity of design and the quality of its products, and the social one that wants to provide social support to people with disabilities. As this second branch should be supported by Wakilaré's commercial side, Wakilaré must quickly reach its profitability targets to be truly "social". However, it is still a start-up and needs some aid to make the necessary investments in order to realize the economies of scale, the diversification of its production and the public visibility which will finally allow Wakilaré to be profitable on the local market but also internationally. This would be the most important guarantee for the sustainability and success of the project. Here is the reason why it is important to support this project through crowdfunding. Indeed, the crowdfunding campaign is ideal for Wakilaré: - for the social cause that rhymes with its objectives and - to boost the financial autonomy of the social enterprise. .
This fundraising will be used for:
• a one-year rental fares for the shop, which is needed to increase the customer database, further boost income, increase profitability and ensure the sustainability of the project.
• work supplies, necessary to increase the quality of Wakilaré products and to implement a "branding" policy that distinguishes Wakilaré from the competition, thus facilitating the administrative and financial management of the company, in particular: a stamping machine, with which Wakilaré will be able to print its logo on all products, making its "brand" recognizable by customers, which is necessary for the development of sales in the long term. In addition this machine will also allow to start the production of leather fridge magnets, in order to diversify the offer, meet the demand of customers (filling the gap in the market) and increase sales.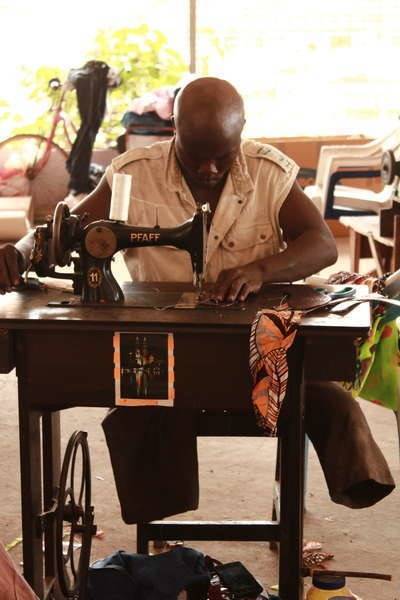 Association Wakilare
Wakilaré operates as a non-profit association running a social business of shoemaking, bagmaking and sewing. Bernard Tenguiano is the spokesperson for people with disabilities, he represents them in front of the authorities and other partners. The Wakilaré association brings together 14 members, including 7 handicapped persons, all of whom were trained and hired by the Wakilaré (6 shoemakers and 1 tailor & saleswoman). The other members are part of the Wakilaré management team working on finances, human resources, administration, training, strategic orientations, as well as medical and social support. The project is supported by several sources of funding, including revenues from the sale of its products, funds provided by project promoters and prize money won (e.g. Orange Social Entrepreneurship Award for Guinea in 2016).
Test modifs